Enhancing Customer Service
November 26, 2020 @ 10:00 am

-

12:00 pm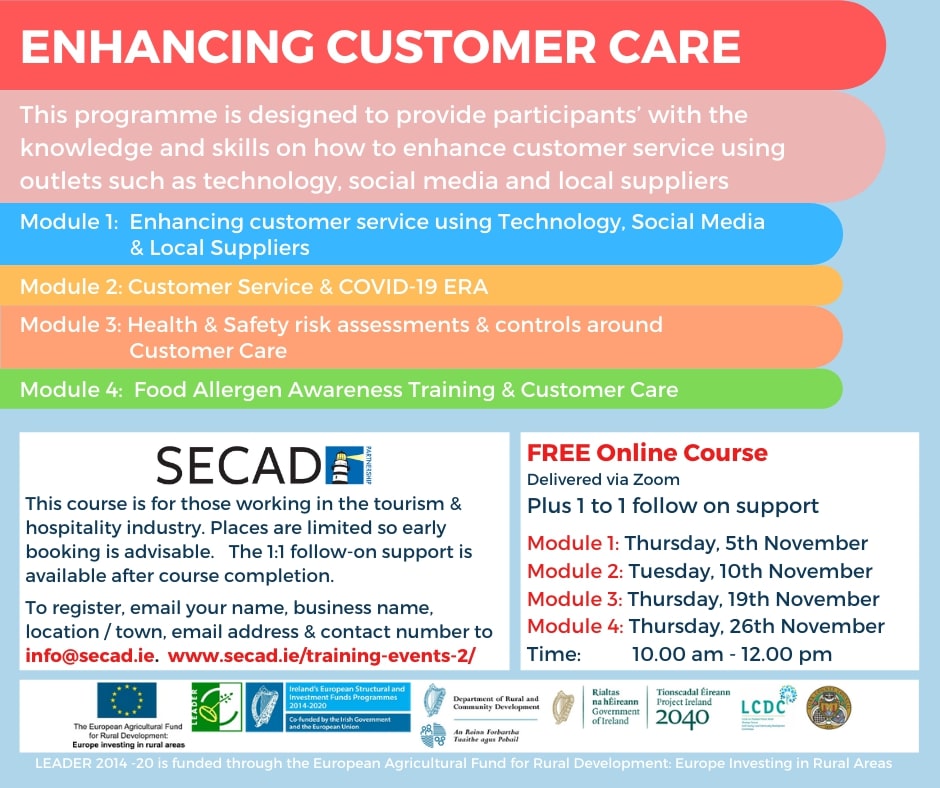 Free online training plus one to one support from The Food Safety Company
Course Length: 4 x 2hr Online Training using Zoom PLUS follow on 1 to 1 support.
Trainer: The Food Safety Company
Who should attend: Owners, managers & staff working within the Tourism & Hospitality Sector.
Objectives: The aim of this programme is to provide participants' with the knowledge and skills on how to enhance customer service using outlets such as technology, social media and local suppliers. Understand risk assessments and controls in relation Health & Safety and Food Allergens to improve customer service.
Booking: To secure your place email info@Secad.ie with name, business, location, email & tel no. State the programme you wish to attend. Limited places so early booking is advisable.
5th November (10am-12pm)
Module 1: Enhancing customer service using Technology, Social Media & Local Suppliers
Use of Social Media & Digital Marketing to engage customers
Use of technology to improve customer experience
Enhancing customer service with local suppliers
Enhancing the customer experience
10th November (10am – 12pm)
Module 2: Customer Service & COVID-19 ERA
Roles and responsibilities of the COVID-19 Lead Representative
Safely adapting and maintaining the premises
Checklist and maintaining customer standards
Dealing with a suspected case of COVID-19 considering Customer Care
Minimising spread of COVID-19 transmission whilst maintaining Customer care standards
19th November (10am – 12pm)
Module 3: Health & Safety risk assessments & controls around Customer Care
Introduction to Health & Safety
Roles and responsibilities of Employers, Employees, Health & Safety Team (important to the customer)
Hazards in the workplace/risk assessments
Safety culture
Work safety and Impacts on customer satisfaction
Safe working environment and impact on customer safety
Costs of poor safety culture and impact on customer experience
Positive business outcome from improved customer satisfaction
26th November (10am – 12pm)
Module 4: Food Allergen Awareness Training & Customer Care
Introduction to Allergens
The 14 allergens
Introduction to new legislation
How to comply with legislation
Managing Food Allergens