Tús case study – Adrian Quirke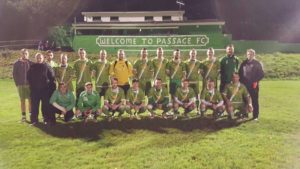 Adrian Quirke was unemployed for three years before he commenced work with Tús in Spring 2016 to work at Passage Soccer club. Adrian had contemplated further education but it was only when the opportunity to work as Groundsman arose did Adrian realise that Tús was the opportunity he was looking for, '' I jumped right into the job, I have a passion for soccer and I'm from the local area''.
Adrian's role as grounds keeper for twelve months involved pitch maintenance, dressing room upkeep, caretaking and being a trusted key holder for the facility. The role allowed Adrian to expand his knowledge and stretch and develop his existing skills. Beyond the required hours for the placement, Adrian also used his own initiative to add value and develop his own knowledge and personal interest. ''I researched pitch technology, grass growth and best practice from the golfing industry and also sought the advice of an Agronomist to optimise grass growth and pitch drainage.''
Adrian firmly believes that ''get out what you put in'' of Tús and his interest in the role and community drove him on to seek out opportunities to do things better at the club. ''The Tus Scheme has transformed my life and gave me the confidence and hunger to secure full time work''.
Adrian subsequently secured a full-time role with BMD Mechanical Engineering and as part of this role, he has since worked as a site General Operative at various large multi-national pharmaceutical sites including Bio Marin and Eli Lilly. Adrian's current work involves pipe fitting, cleaning and maintenance and he has brought the motivation and positivity reignited by the Tús programme to his new role.
''I've excellent exposure to best practice of multinational companies including, learning more about health and safety standards and processes''.
Adrian is also still very much involved in supporting the Passage soccer club on a voluntary basis both in training a winning junior team and as a voluntary groundsman guiding its future development and growth.