Field of Dreams
SICAP Social Enterprise Grants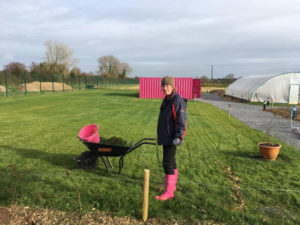 Down Syndrome Cork,  Field of Dreams, Clash Road, Curraheen, Co Cork
Down Syndrome Cork (DS Cork) has been providing social care services in a variety of forms for the past nine years.  In autumn 2017, DS Cork launched the Field of Dreams project a living, horticultural based training facility and social space for Adults with DS on a three acre plot of land.  Prior to the launch, SECAD Partnership supported DS Cork with guidance and advice as well as funding to purchase lap top computers to be used for administration purposes at the facility.  
In a safe and secure setting, Field of Dreams aims to provide opportunities for adults with DS to improve their work and life skills through a structured, task driven programme, tailored to meet individual needs.  
Field of Dreams focuses on specific tasks and producing meaningful work opportunities for adults. The plot has two large poly tunnels and two modular buildings which will house on-site horticultural learning.

Additionally SECAD facilitates a placement for a Rural Social Scheme (RSS) participant at Field of Dreams. The Rural Social Scheme (RSS) provides income support to low income farmers and fishermen and SECAD manages this programme in the South Cork area on behalf of the Department of Social Protection. SECAD plays a key role in determining where participants are placed and supports community groups involved to develop a positive work experience for the participant.
Mary Coakley – an organic lamb farmer with strong knowledge of organic farming was placed with the Field of Dreams social enterprise.   Along with the on-site horticultural learning, Mary Coakley supports the Field of Dreams students to experience growing, harvesting and selling produce from purpose built gardens. This placement has proved to be an excellent fit and of great benefit for the Field of Dreams team.
As 95% of adults with DS are currently unemployed, they will collaborate with Cork businesses to increase potential for work experience and job placement.  Over time, revenue generated will be ploughed back into the project.
Field of Dreams is the first purpose built facility of its kind for adults with DS in Ireland and all activities on site will be geared to address their challenges and issues in a way that is not being met anywhere else locally.