Tourism Training: Facebook Advanced
November 25, 2021 @ 2:00 pm

-

4:30 pm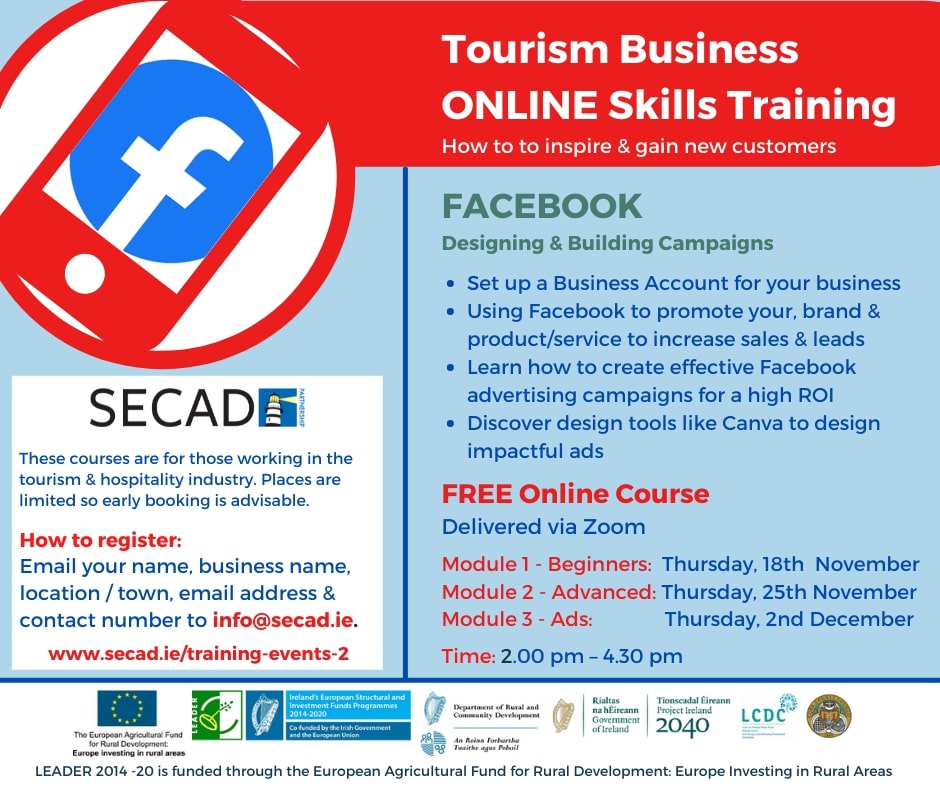 Dates: 18th November      2pm – 4.30pm       Facebook Beginners
25th November      2pm – 4.30pm       Facebook Advanced
2nd December       2pm – 4.30pm        Facebook Ads
Online Live Using Zoom: 3 X 2.5hr Online Training using Zoom 
Trainer: Sandra Hennessy, Be Dynamic
Objectives
To give the participants the skills, tools and knowledge to be able to set up a Facebook page and use it effectively in their business. To be able to run effective Facebook advertising campaigns for their business for a high ROI. 
Course Outcomes
At the end of the workshop(s) each participant will: 
Have a Facebook page for their business 

Know how to use Facebook to help promote their business, brand and product/service and increase sales and leads

Be able to create effective Facebook advertising campaigns for a high ROI
Module 1 – Getting Started with Facebook 
Introduction – the history & evolution of Facebook 

Facebook users' demographics – enable them to gauge how effective Facebook will be for their business 

Profile vs. page vs. group – give participants an understanding of the difference between all three  

Setting up Facebook page – a walk through the step by step process of setting up the account and a business page  

Understanding Facebook's news feed filter to ensure high organic reach and engagement  

Facebook settings and tools: a walk through the main page settings and tools 

Using Facebook app and page manager app 
Module 2 – Facebook Advanced Content Creation & Tools
Using advanced tools like carousal posts, slideshows etc. 
Facebook Stories – why and how to use them 

Facebook live: how to run a live stream, Scheduling a live stream, key considerations and features 

Running competitions is one of the most popular activities on Facebook. Participants will learn about Facebook promotion guidelines and how to run a successful competition that complies with Facebooks promotion guidelines 

Creating great visual content using Canva and a range of free and low-cost apps like Wordswag, Ripl and Boosted 
Module 3 – Facebook Advertising – Going Beyond the Boost Button
Boosting posts effectively and when to boost vs us ads manager 

Creating saved, custom and remarketing audiences.

Boosting vs. using ads manager. 

Planning an advertising campaign that brings people through from brand awareness to the decision. stage of the customer journey.

A walk through the Facebook business manager and ads manager platform – 

Creating an ad from scratch. 

Setting up the Facebook pixel and event tracking 
Pre- requisite
All participants should bring their Facebook access details with them on the day and be able to log into their account using their pc/laptop – all practical elements will be completed on the browser version of Facebook. It is important that participants can navigate to their browser from Zoom and vice-versa.  Help documents can be provided if necessary.