Midleton Tourist Office
Liam Dowd – Midleton Tourist Office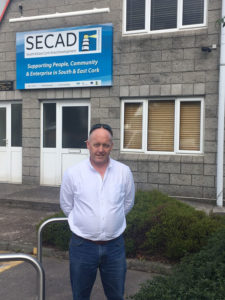 Liam Dowd spent one year as a Tourist Advisor on a Tús placement at Midleton Tourist Office, Co. Cork. Prior to starting the role, Liam had a background in complementary therapy. However, as such work often uncertain and piecemeal, the Tús programme offered more structure and the opportunity to try something different and a new experience.
The Tús role involved advising european and international visitors in the Midleton area, sharing local knowledge and advice as well as associated office administration. It helped Liam realise new strengths and skills, ''I loved dealing with people from different countries and cultures, helping them out and being a welcoming ambassador for the local area''. In fact, the role awoke a great enthusiasm to meet new people and cultures and a new passion and flair for languages. Liam describes the satisfaction he derived from delivering the service with a ''wow factor and exceeding expectations of the Irish cead mile failte''.
In addition to a new appreciation for his skills, Liam says the best thing about Tús is its flexibility, ''it's three days per week so it allows you to focus on other things alongside''. Liam's advice to a person thinking of taking up a Tus placement is ''to go for it as it's flexible, if a better job offer comes along in the meantime you are free to take it up''.
Since the completion of the Tús programme, Liam is positive about his future prospects. ''I am currently working towards achieving the Intermediate Level in the DELE Exams [Spanish as a Foreign Language] with the Instituto Cervantes to attain Intermediate Level in the national official Spanish Language test''.
On advice from SECAD, employment support advisor Cora O' Donnell, Liam learned about a relevant course available in Youghal College of Further Education. Liam started a QQI Level 5 Hospitality, Heritage & Tourism – Tourism with Business course in September 2017. On its completion in June 2018,
" I hope to travel to live and work in Spain to further enhance my language skills and develop other business interests and to explore Tourism opportunities in Spain as well''. Liam has already reached out to businesses and partners in the tourism field both at home and abroad with a view to making this a reality. Watch this space!