Nicole Keeshan TÚS work placement SECAD Partnership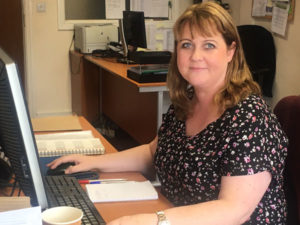 Nicole Keeshan started her TÚS work placement in October 2016 as a Receptionist and Administration Assistant at SECAD Partnership.
Coming to the TÚS programme, Nicole benefitted from having in excess of twelve years work experience in an office environment prior to her focussing on raising her family and working at home for six years.
Nicole credits an excellent relationship with her TÚS supervisor for building her self-belief and confidence to join the programme and excel in her nineteen and a half hours per week work placement at SECAD.
From the outset, Nicole built her confidence and quickly proved to be a reliable and motivated member of the team working at SECAD on reception and administration duties including working with clients on a daily basis – booking appointments, greeting them front of house and dealing with queries.
''At the front line in SECAD, I was often the first point of contact for vulnerable people getting in touch to seek assistance. Channeling their queries, listening and showing empathy was a really rewarding part of my day to day work''.
Nicole also used her time at SECAD to build her profile of skills, attend short in-house courses and avail of mentoring, CV and interview skills coaching for upcoming job interviews.
One of the aims of TÚS is to provide a stepping stone towards more permanent employment. SECAD was delighted when on 30th August Nicole resigned her TÚS Work Placement having successfully obtained part-time permanent employment as an Accounts Administrator.
''I am a huge advocate of the TUS programme, I would 100% recommend it to anyone getting back to work. My only regret is that the twelve month TUS programme is so short. Getting back to work was an adjustment, it took four to six months to really find my feet but now I feel at ease.''