The Ring of Cork (ROC) has worked with members to create a new Ring of Cork Heritage Trail Map Pad. The ROC heritage trail is an A3 map to promote the heritage of the region. It highlights and connects 36 heritage attractions from as far west as Ballincollig and east to Youghal. The front of the map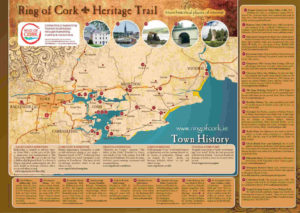 highlights 12 of the key attractions and the back highlights 24 important attractions of historical importance as well as town history with linkages back to the ROC website.
These maps are a very useful tool our members for front of house, tourist office staff to directing visitors to attractions and activities and keeping them in the region for longer.
"The Ring of Cork Heritage Trail map is a lovely publication highlighting the rich heritage in the region. I think it is a great tool that I use to help guide my guests to visit other parts of East Cork, Cork Harbour and the greater Cork region"
Noel Corcoran Crosshaven House
Download the map here.