Barbara Murphy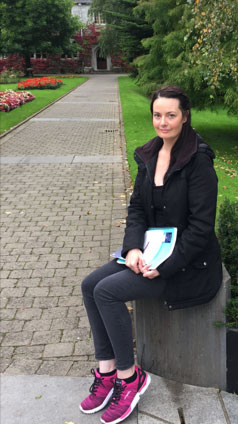 In January 2017 Barbara Murphy returned home to Ireland after having to emigrate to live and work in Germany since 2013. Barbara soon found herself frustrated and disheartened by the then jobs market in Cork. As a UCC graduate of Applied Social Sciences, she was very keen to secure relevant work and to be able to forge a sustainable career in her home town of Cork.
When Barbara first engaged with SECAD Partnership employment services she needed guidance about her job prospects and the realities of reintegrating into the Irish labour market. ''From our first meeting, I found the employment support advisor to be extremely helpful, empathetic, personable and non-judgemental. She maintained frequent contact with me through email which I genuinely appreciated.''
''Specifically, the advisor empowered me to think differently about my strengths and transferable skills. I received very practical ideas and tips to enhance my CV and showcase my skills. Ultimately, she helped to rebuild my belief in what I could do to get me out of the professional dead end I felt I was in at the time.''
''I utilised all of her advice including signing up for refresher courses online through Alison.com – a fantastic online facility that is free of charge. I have already completed short computer courses to brush up on my skills and hopefully learn new ones.''
Barbara has now mapped a positive path to ensure living in Cork is a sustainable option into the future. Barbara has been accepted on a post graduate course through Springboard commencing in September 2017 in UCC for an MA in Digital Arts & Humanities. '' ''Following SECAD's advice, I am thrilled to get offered a place on this Masters and I'm very grateful for the opportunity. The programme really brings me back to my true interest in sociology but also focuses on the digital space – a future skills need and growth area''.
''I would like to thank SECAD Partnership for all the help and advice throughout the last few months. I have already actively advised friends and family to seek out SECAD Partnership's employment support services. It's a fabulous resource, it's free and thankfully, the guidance I received at the right time proved to be invaluable to me''.